"This Fine Art Of Making Ghosts" OUT NOW on streaming services! 
So yeah, we're getting round to releasing our stuff onto streaming services now because apparently that's what all the cool kids are doing? but I wouldn't know, when I was a kid everyone would just steal a bit of their parents alcohol, mix it all into a big bottle and then drink it behind the bike sheds! Whatever! We did at least get some cool art work for this release which you can see below! Got it from our good friends at Laughing Raven Creations whom you can check out here. 
In the meantime get your hands on a FREE download over on our band camp! We're keeping it free for a week and after that will charge like £1 or something? I don't know but dammit it I have to eat! 

Dead Happy Bandcamp - "This Fine Art Of Making Ghosts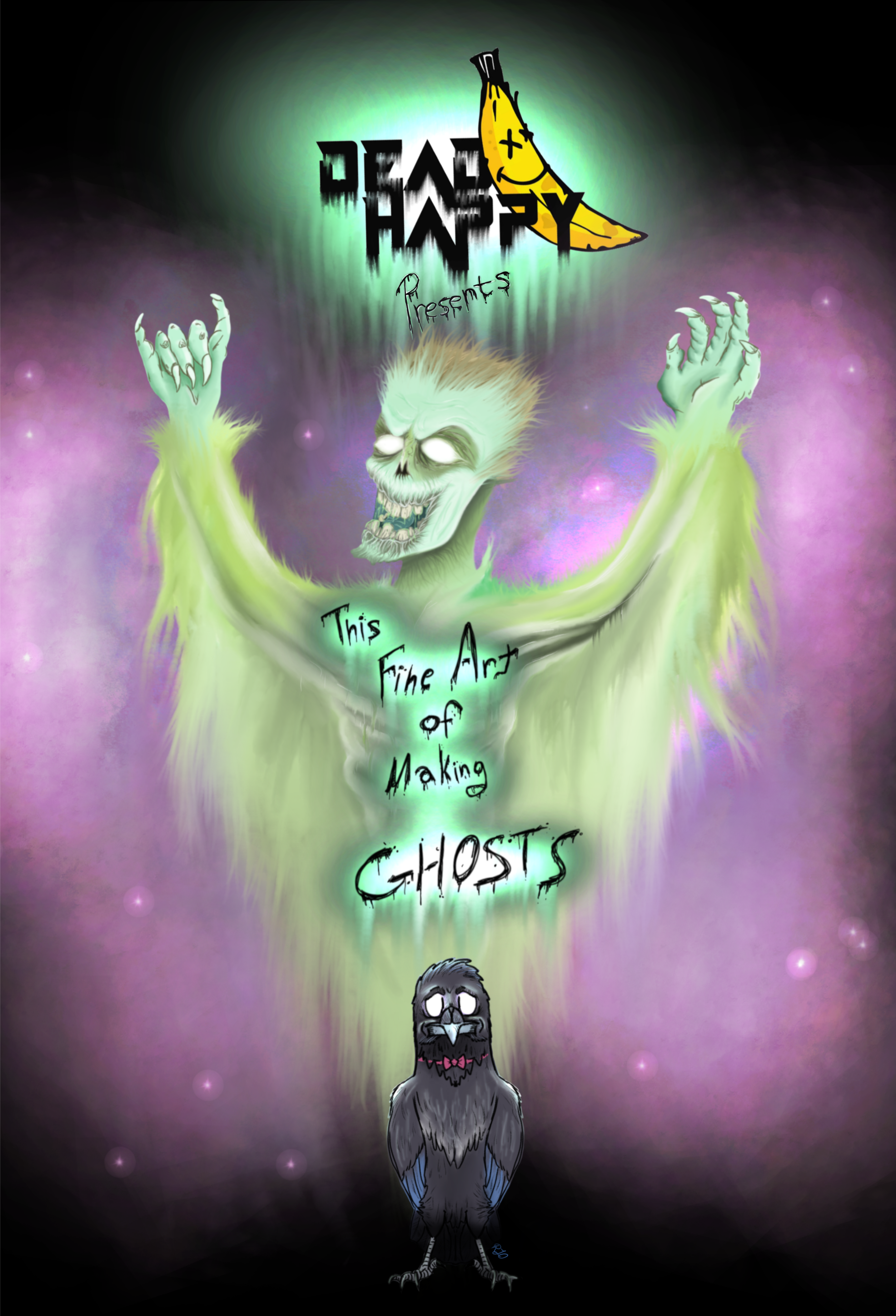 It's Here! It's arrived! 
Off Switch is finally on all Streaming Services for you to listen to! you can search or you can go through our handy hyperfollow link right here: 
https://distrokid.com/hyperfollow/deadhappy/off-switch
 
Dead Happy Finally Officially release "Off Switch"
4 years ago Dead Happy recorded their first music video for the single "Off Switch" and it was good, but at the time they had no idea how you could actually release it to the mass public UNTIL NOW! so if you're a fan of Mindless Self Indulgence, Twenty One Pilots or just feeling freaky, head over to our Hyperfollow link and get a pre save of the single! due to be released on Friday 26th March 2021. 
Pre save through our Hyperfollow link here: 
https://distrokid.com/hyperfollow/deadhappy/off-switch
Or if you want to relive the experience of a cute little robot trying to destroy itself check out the video here: 

New Release! Featuring Electric Six! 
Yes! from the band that brought you "Gay Bar" and "Danger! High Voltage!" they now join forces with Dead Happy to bring you "My Sex Appeal" check out the video here!
Dead Happy get a New Bassist!
Following on from the colossal world success of our Xmas video, this follow up charts the discovery of our new bassist. 
Beard Festival
Everyone likes a good old fashioned British Beard Festival. Best in the world. There may have been some crossed wires on this one...
Christmas 2017!
Its Christmas again. Its always bloody Christmas. So that means you'll be wanting another festive video. This ones particularly festive because it has aliens and death in it. See you in 2018 x
14th October 2017 - Halloween! We bloody LOVE Halloween!
More over the top promotion for gigs. Is anyone even watching this?!? Special thanks to Damien Ferne for helping us out with this one. 
24th June 2017 - Fathers Day
Join us in congratulating Kreator for their parenting prowess
13th May 2017 - Euro Euro... Eurovision
It's Christopher's absolute favourite time of the year, and we get to see why

16th April 2017 - Easter!
Its Easter, and we have a little bit of history for you. Produced with the aid of National Geographic, Tony Robinson, and controversial yet entertaining posho David Starkey.