2022
Christmas 2022 - Second Coming
25th December 2022
Professor Partorius just want's to forget about Christmas this year, but a visit from an Angel has the pair rushing to get into the spirit, think "Christmas with the Kranks" but with mutant turkeys
Halloween 2022 - The Hand From Hell
31st October 2022
This year Professor Partorius just wants to stay home and watch scary movies, but a serial killer puts a stop to a relaxing night of horror movies!
Dead Happy to play electro festival
30th September 2022
Dead Happy head over to Sheffield to play along some Electro bad asses! Sunday 18th December! Check out the full details on our Shows page here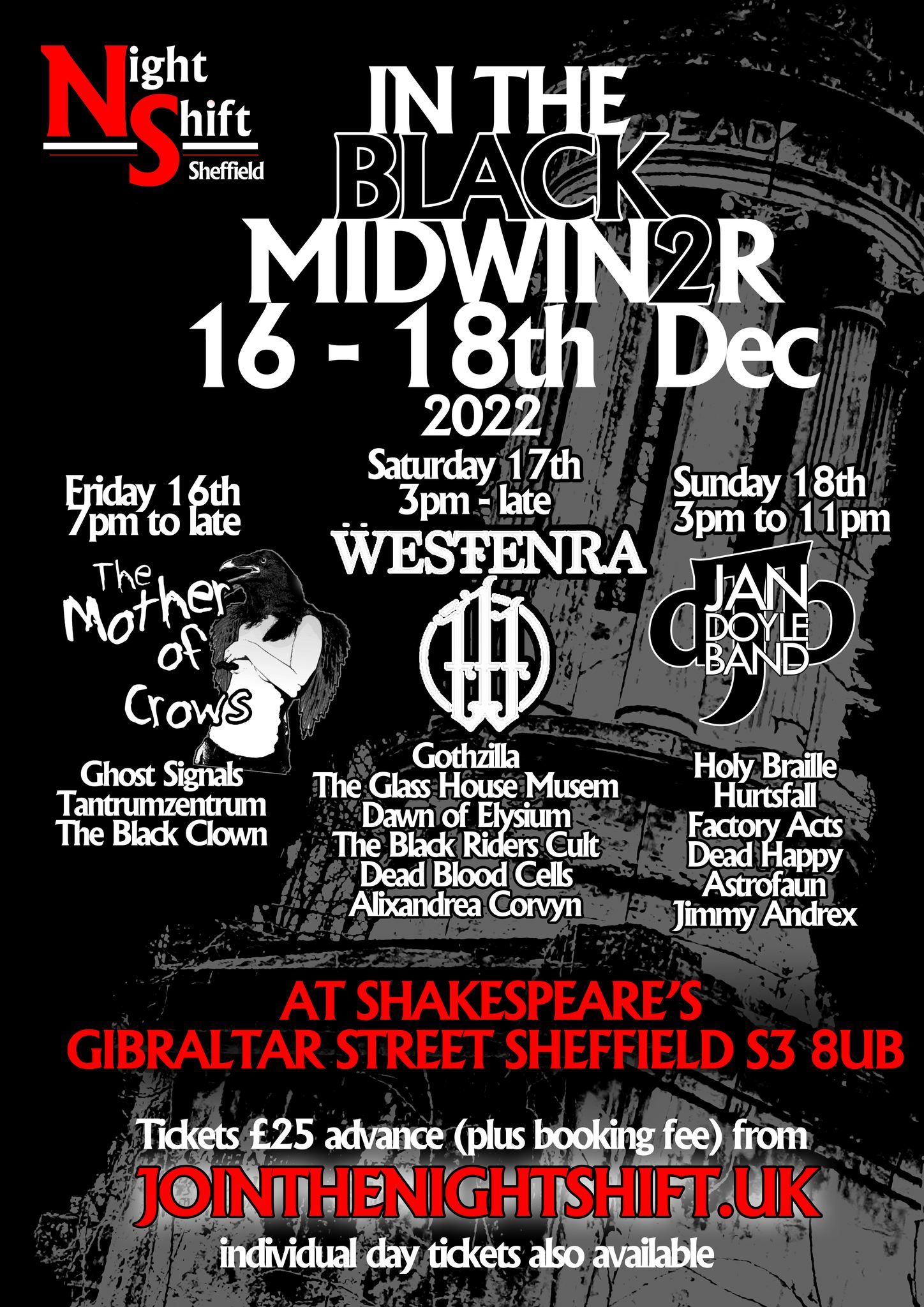 2021
Christmas 2021 - A COVID XMAS
25th December 2021
Merry Christmas! This year/ we did have a big video planned but a member of the Dead Happy Family caught a bit of the you know what and so for the safety of all involved we shut down filming until the new year.
I was able to make a new video on my own quickly (basically yesterday morning) sooooo yeah, enjoy this very cheap Die Hard knock off. Its a Facebook exclusive! https://fb.watch/kDyBJqZm_d
"This Fine Art Of Making Ghosts" OUT NOW on streaming services! 
23rd June 2021
So yeah, we're getting round to releasing our stuff onto streaming services now because apparently that's what all the cool kids are doing? but I wouldn't know, when I was a kid everyone would just steal a bit of their parents alcohol, mix it all into a big bottle and then drink it behind the bike sheds! Whatever! We did at least get some cool art work for this release which you can see below! Got it from our good friends at Laughing Raven Creations whom you can check out here. 
If you like to download your music hop on over to our band camp!  

Dead Happy Bandcamp - "This Fine Art Of Making Ghosts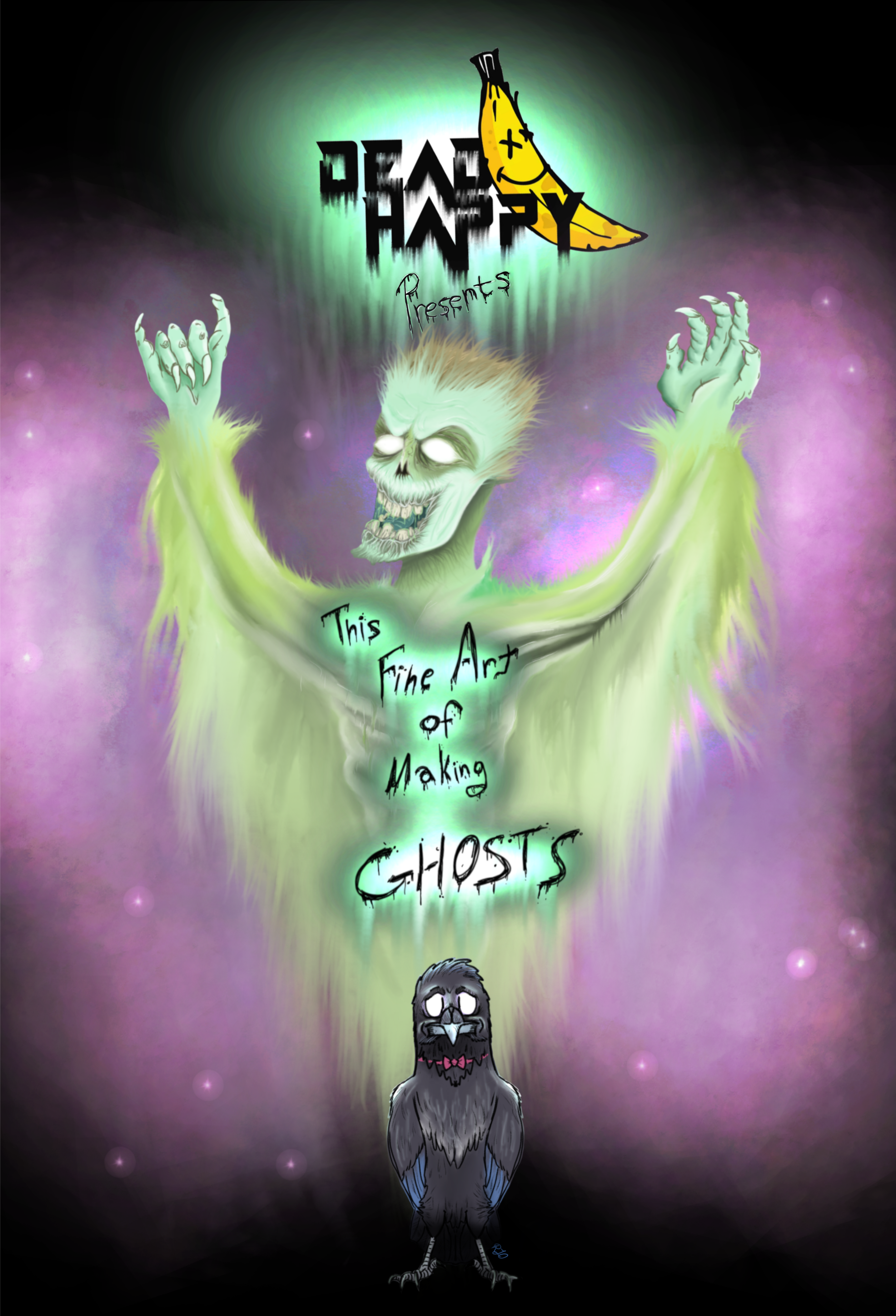 Dead Happy Finally Officially release "Off Switch"
26th March 2021
4 years ago Dead Happy recorded their first music video for the single "Off Switch" and it was good, but at the time they had no idea how you could actually release it to the mass public. UNTIL NOW! So if you're a fan of Mindless Self Indulgence, Twenty One Pilots or just feeling freaky, find your streaming platform of choice through our Hyperfollow link here: 
https://distrokid.com/hyperfollow/deadhappy/off-switch
Or if you want to relive the experience of a cute little robot trying to destroy itself check out the video here: 
Halloween 2021 - Ghosted
31st October 2021
When the Dead Happy crew come across a floating spooky cup they have to track down the spooky origin, only to be met with spooky consequences! Yes, it's another Halloween Episode!
2020
Christmas 2020 - Me, My Elf and DIE!
25th December 2020
Merry Christmas and all that jazz! Here is our special Christmas episode! 
Halloween 2020 featuring NUDITY
31st October 2020
Halloween 2020! Yeah it kind of sucks! But what you going to do? Hunt for nude ghosts or just get an early night? 
Things to do in Lockdown
29th April 2020
Just a few ideas for you all during these trying times.
Goldfish Terror
17th April 2020
Lockdown madness is kicking in nicely now. Is it hunger or boredom? who knows? but you can keep downing that sugar! statistically you're more likely to be killed by a goldfish!
Welcome to Hell!
2nd April 2020
Professor Partorius finds himself lost and alone trapped in hell, but he finds out his punishment is both cruel and unusual! Massive thanks to our Demon Damien follow him on Instagram @1000014
New Release! Featuring Electric Six! 
1st January 2020
Yes! from the band that brought you "Gay Bar" and "Danger! High Voltage!" they now join forces with Dead Happy to bring you "My Sex Appeal" check out the video here!
2018
Dead Happy get a New Bassist!
1st June 2018
Following on from the colossal world success of our Xmas video, this follow up charts the discovery of our new bassist. 
Beard Festival
13th May 2018
Everyone likes a good old fashioned British Beard Festival. Best in the world. There may have been some crossed wires on this one…
2017
Christmas 2017!
Its Christmas again. Its always bloody Christmas. So that means you'll be wanting another festive video. This ones particularly festive because it has aliens and death in it. See you in 2018 x
Halloween! We bloody LOVE Halloween!
14th October 2017
More over the top promotion for gigs. Is anyone even watching this?!? Special thanks to Damien Ferne for helping us out with this one.
Fathers Day
24th June 2017
Join us in congratulating Kreator for their parenting prowess
Euro Euro... Eurovision
13th May 2017
It's Christopher's absolute favourite time of the year, and we get to see why
Easter!
16th April 2017
Its Easter, and we have a little bit of history for you. Produced with the aid of National Geographic, Tony Robinson, and controversial yet entertaining posho David Starkey.
Big Sweaty Men Clash in Genuine Combat!!
28th March 2017
We like wrestling. Well The Professor likes wrestling. And if The Professor likes wrestling you can bet your bottom dollar we will devote an entire well earned weekend to filming and editing an over the top wrestling video for no reason other than Wrestlemania is on next week or something. So enjoy yet more nonsense! 
Off Switch Music Video Premiere!
23rd February 2017
Can you believe it, the music video for Off Switch has finally arrived! After quite some time stuck in a pre-production/production/post-production nightmare, its finally here! You can check it out below:
...And that's not all!

You can download a copy of Off Switch from the music tab on our site right here, completely for FREE! 

...And that's STILL not all!

We are very pleased to announce that Off Switch will be the lead single from our upcoming album entitled 'Mechana God' which will be released as soon as we get our shit together. More information coming soon.
Thats all
2016
Merry Christmas one and all!
25th December 2016
Merry Christmas from Dead Happy! Get even more festive cheer to go with your festive cheer... here:
These First Aid Kits Must be Glitched
4th August 2016
No matter how many first aid kits we throw at him, Christopher still isn't feeling well enough to perform live. Therefore Monday's gig at The Rainbow will be as a duo again. Just to reiterate from before; nothing is cancelled and we will still be bringing all the usual Dead Happy charm you know and love. So for hopefully just one more time, come and see freaky disco metal's answer to the finest musical duo that ever lived: Robson & Jerome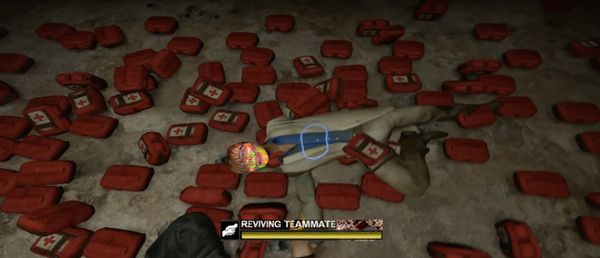 Poster!
24th July 2016 
On 30th July 2016 we're heading back to the awesome Cogs Bar in Birmingham to force some freaky disco metal down people who never asked for its throats. They'll enjoy it really. As will we. Really interesting venue if you've not been - highly recommend a visit.

Event info here: https://www.facebook.com/events/1731059550487058/

Artwork kindly knocked up by Emma Channell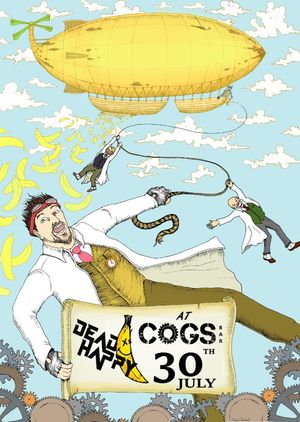 Incapacitated!
14th July 2016
Disco can be a wonderful thing. Too much disco can be dangerous. Christopher will unfortunately be stepping down for the next few shows with Dead Happy due to illness. Shows affected as of todays date are:

Saturday 17th July - Flapper
Saturday 23rd July - SOPHIE charity gig in Portsmouth
Saturday 30th July - Cogs Bar (Birmingham)

But fear not! We will be continuing as a duo and no shows have been cancelled. Feel free to contact us for more information if needed.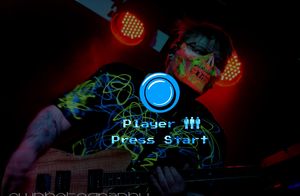 Sophie Lancaster Foundation CD
31st May 2016
It's here! The album in which we somehow managed to wing ourselves onto - with the likes of Cradle of Filth, Delain, Arch Enemy, Die So Fluid & loads of other bands!

But in all seriousness, a great cause being promoted and celebrated here. Please do buy a copy or drop a donation their way - all money goes to the charity, so you dont have to worry that we're wasting it on lasers and uv paint.

https://cjrecords.bandcamp.com/album/s-o-p-h-i-e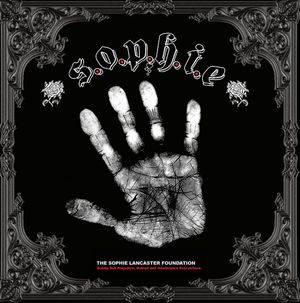 Gigs!
16th May 2016
Heres a video of us kicking off May at the Rainbow on the 1st. Thanks once again to Midlands Punk Rock Video (https://www.youtube.com/channel/UCFakJ2vGpZt1XgS6i_-Yy9Q)
Music Video Shooting… BEGIN!
1st February 2016
We started shooting our first music video "Off Switch" today. Check out our own robot M.E.E.G.O in the back ground, for more photos check out our insagram at: 
https://www.instagram.com/deadhappyband/
 and big thanks to our friends Matt and Dan at Lost World Films (http://lostworldfilms.co.uk/) for being truly excellent throughout the process.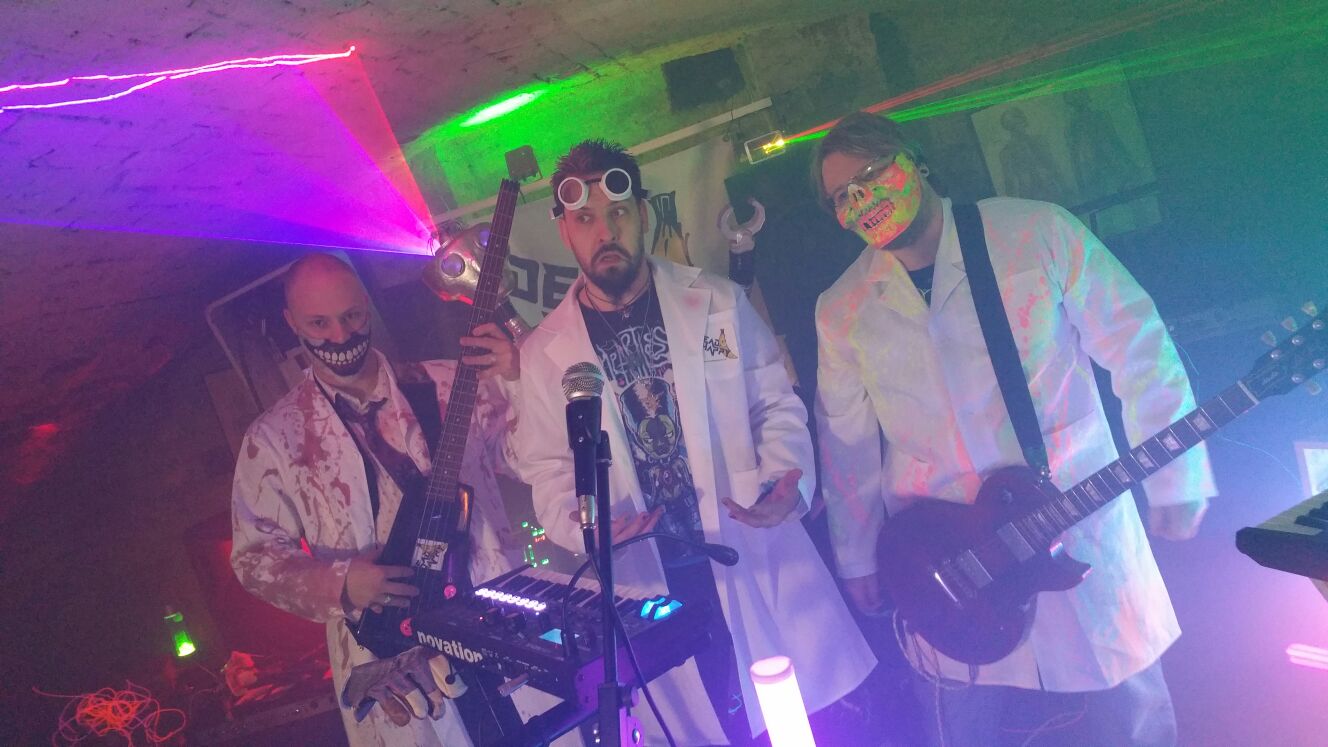 2015
Newbie!
20th December 2015 
Welcoming our new bassist and all round splendid chap - Harry Sequin!

When not shooting grouse on his extensive estate, Harry loves nothing more than slapping bass to some freaky disco metal. Lovely teeth too.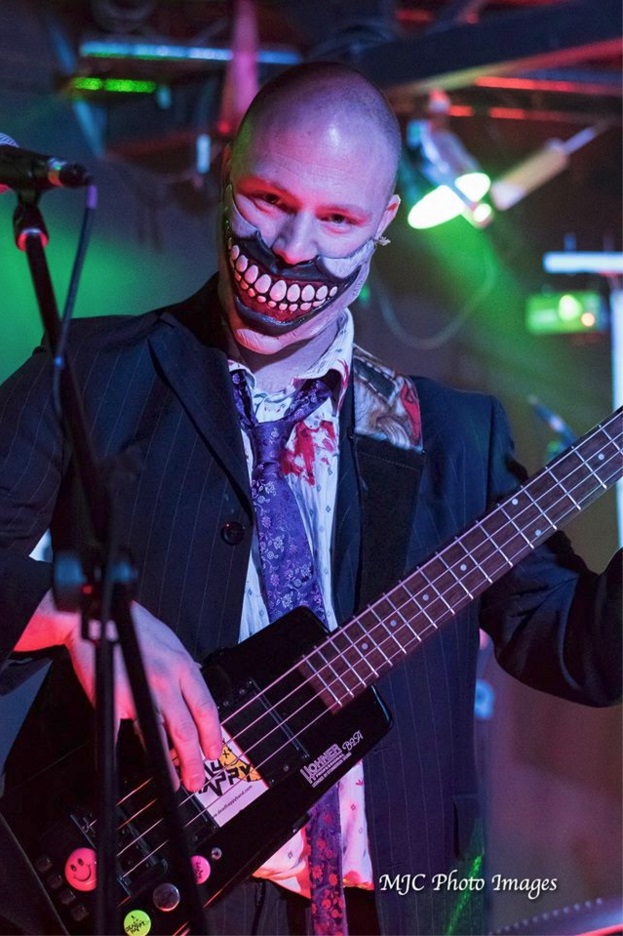 Music Video Pre-Production
18th November 2015 
We're working with the excellent Lost World Films to create a music video for Offswitch. They made an advertising poster for us. So here it is.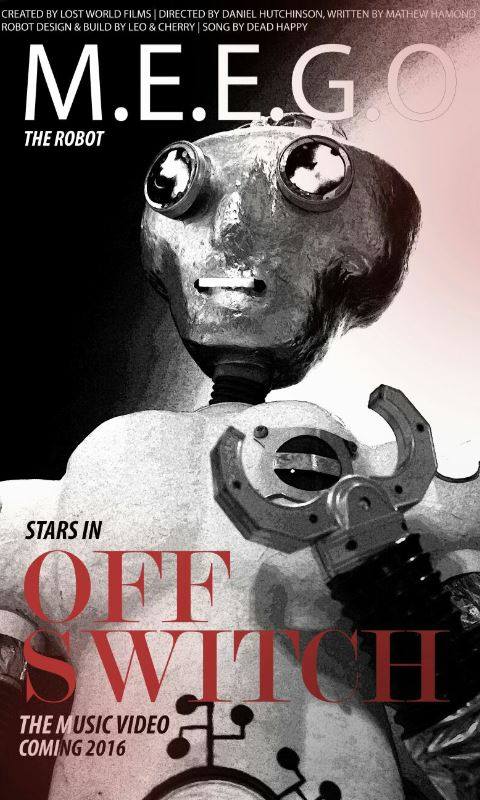 Lights
23rd October 2015
All about lights and smoke recently, live show is coming along nicely. To exhilarate you, here is a light with some smoke: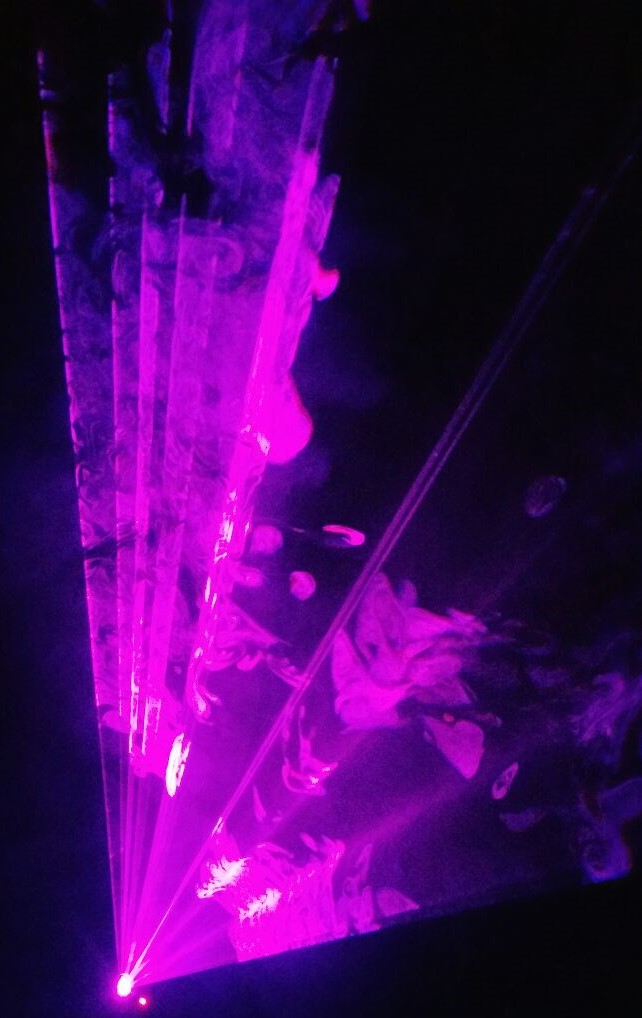 Down Time
30th September 2015
Things have been pretty quiet for us lately. We've been recording and mixing some new stuff that will be out in 2016 which we have been working on pretty relentlessly. Live shows will commence again towards the end of the year, more details to follow!
STUDIO TIME!
June 2015
We're in the studio again. See you on the other side.